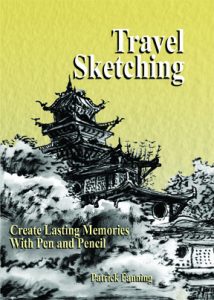 Travel Sketching: Create Lasting Memories With Pen and Pencil, an art instruction text by Patrick Fanning, from ArtWorks Press, 2018
            This lavishly illustrated book teachs you how to make fresh, lively sketches on location, finishing a complete composition in a matter of minutes. It covers both the basics of drawing and the finer points of technique and design. Contents include choosing a sketchbook and drawing materials, recording the light direction and observer's eye level, determining relative sizes and angles, modeling form, perspective, how to use photos without being dependent on them, and dozens of example travel sketches to show how it's done.
In 1979 my friend Matthew McKay and I founded New Harbinger Publications. It has grown to be one of the premiere publishers of self-help psychology and health books in the world. For over 20 years I wrote and published self-help books, cassette tapes, and video tapes as my main day job. Here are some of the titles I wrote all or part of:
Mind & Emotions, Not Dead Yet, Communication Skills for Teens, Messages, Addiction Workbook, Couple Skills, Daily Relaxer, Family Guide to Emotional Wellness, Prisoners of Belief, Self-Esteem, Successful Problem Solving, 
I remain on the board of directors of New Harbinger and I still write a self-help book every couple of years, but I have withdrawn from the day-to-day operations.
For a more complete list of my publications and New Harbinger's full catalog of fine books, check out newharbinger.com, or look me and the company up on amazon.com.